With Mother's Day coming up I thought it would be a good idea to get out the gift bag punch board and make a treat bag and treat holders using the Apron of Love set. In my last blog  I mentioned some other projects I would share so here are two of them
Gift Bag Treat Holder
I used the Delightful Daisy paper because it is so bright and pretty and also feminine looking but I think this project would look cute in a variety of papers.  I used the small setting on the punch board and its the perfect size for a couple chocolate treats. Who doesn't love getting chocolate.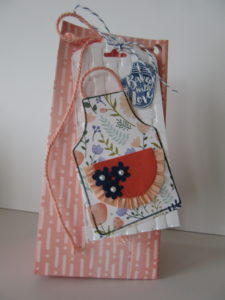 The little oven mitt is so cute. You can't tell in the picture but it is embossed to give it a quilted look.
Product List
Nugget Treat Holder
Here is another cute treat holder perfect for Hershey nuggets and is great for gift giving.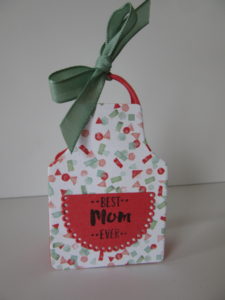 I used retired product for this. It's a great way to use up some of you retired stock. I think I'll go through mine and make up some of these cute treat holders for the ladies in my church for Mother's Day. Who wouldn't love to get some chocolate!
I plan on sharing some other ideas using the Apron of Love.