Anytime is a great time of year for a love you card! But Valentines day is a special time to let all those  people in your life know how much you care about them! I have so many people who are special to me and who have been helping me through these recent months of healing! My family, who has put up with my inability to do much of anything, my friends who are a never-ending source of encouragement, and my church, who have provided many meals during my convalescence.
I am a week out from my surgery and not yet able to make cards, but I wanted to share one of the ones I did in that brief time after breaking my arm and before having surgery on it!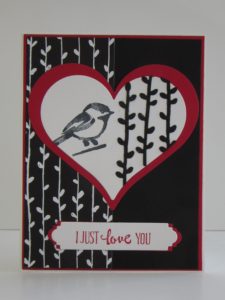 Petal Palette
When I first saw this set I fell in love with that little bird! And the paper which is black and white. Well, the whole thing really. Wow! I will be sharing a couple of ideas on what you can do with the paper in a future post.
I decided to use the paper that had a die cut to match it and make a reverse image. And of course I had to use the Sweet & Sassy heart framelits. There are some great sayings in this set and I chose the one that say's I just love you. Great for Valentine's Day or just to let someone know how much they mean to you.
I love the label framelit that come with this set. It is perfect for so many sayings and easy to use. I cut one from real red and whisper white, then cut the red one in half to pop it. Just adds a little something.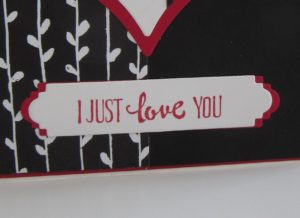 Thanks for stopping by to visit me. Hope my love you card inspires you to let someone in your life know you care!
Love making cards and Stampin' Up? Click here to see the benefits of becoming a demonstrator!
Product List