It really is a beautiful day! Warm weather has finally arrived and it is actually going to get up into the 70's today. I am going to be going outside to do a few things and enjoy the sunshine but I wanted to post about a pre-release from Stampin Up!
Share What You Love Suite
This is a new item in the new catalog and we are able to buy it a month before the release date. Here is a video that shows the different bundles.
Aren't they fantastic! Love the free stuff.
Here is the ordering information.
Just Getting Started bundle – 149524 – $57
A Little More, Please bundle – 149525 – $91.50
Gotta Have It All bundle – 149526 – $127.50
This is a card I made using the paper and stamp set. The paper is absolutely gorgeous and it comes in a big pack of 24 sheets. I did a scrapbook page using it that I will share tomorrow.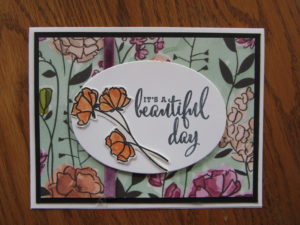 This special is only good in May so don't wait. The free stuff is gone on the 31st. Hope the weather is nice where you are and you get to enjoy it! Thanks for stopping by.