Celebrate the Good Stuff
It's always fun to celebrate the good stuff! A couple of things happened recently that were worth celebrating. We sold a house that we were flipping, my oldest daughter is home for spring break, and my broken arm is healing nicely and physical therapy is going well (although slow!) We went out to dinner to celebrate with two of my girls and were planning on a movie, but we were all so full after eating that we decided to just go home and chill. Probably would have fallen asleep in the movie theater.
So when I saw the challenge over at CAS on Sunday, I knew I was going to make a card. With a theme of celebrate and the use of sequins how could I not do it. There were plenty of cards posted to inspire me. And I have plenty of sequins.
I had used the set Picture Perfect Birthday is a class recently and decided to use the celebrate the good stuff saying. Then I had to use the party horn or whatever they are called! My kids loved these when they were little. Who am I kidding. I loved them too.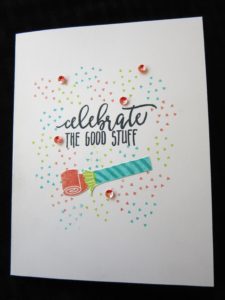 I love the bright colors in this card. Celebrating should be fun and these colors are so lively.
Product List
Today is also the first day of Spring too, although we still have snow on the ground around here. I'm hoping for some warmer weather soon because that will be something to celebrate! I've been stuck inside long enough. I hope that you find something good to celebrate too.