I've been playing with the Aprons of Love bundle this week and have discovered that aprons aren't just for cooking. I am reminded of when I was younger and my mom and grandma were cooking.  They always wore aprons. Especially on Sunday so the wouldn't get their dresses dirty. I have one or two hanging around and occasionally will wear one. It's also fun to see my daughters put one on every once in a while. But I think the time of aprons for cooking has passed. I don't know many people who use them anymore. But here is a cute card that can be used for a Starbucks gift card holder.
Starbucks Happiness is a Cup of Coffee Card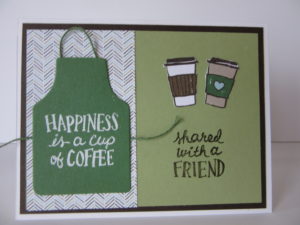 I also used the Coffee Cup Framelit Dies and the Coffee Break DSP.  The paper has green in it so I made the apron green to match Starbucks! I did fussy cut the little cups even though there is a die to match.
Product List
I'm not a coffee drinker myself, but many of my friends are so I think this will come in handy for some upcoming events. I have some other ideas for the Apron of Love set that I will be sharing over the next few days. It has been a fun set to play with and I hope you will stop back to see what else can be done with it. I even have a scrapbook page in mind for pictures of my daughters when they were younger wearing aprons while cooking. Now I just have to find them!