One of the perks of being a demo is that you get the new stuff first! I just love opening my boxes from Stampin Up! Of course I love opening any package that has good things in it, but when I know it has new product to try, I'm extra excited.
Here is my latest!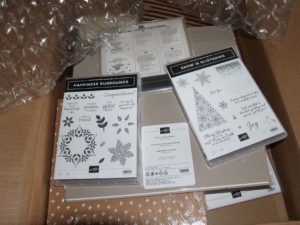 It has some new product that will only be available during November. I can't wait to share some ideas with you! So stay tuned for some fun cards and projects.
And if you're interested in more of the benefits from being a demo check out my link here. I would love to have you join my team and start enjoying the benefits now.
Happy Stamping!